10/04: Battle Station: Part 10 - God's Love for the Church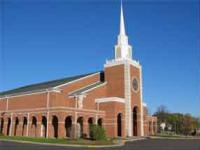 Hey fam, itís been a bit since weíve talked.
Letís see what new. Oh yeah, CLF is about to begin evening services. Our hope is to have simple, beautiful worship that honors God, glorifies Christ and edifies His people. We plan an extended time of praise, testimony, Scripture reading and weekly communion.
Our first sermon series will feature on of my favorite N.T. books, the letter to the Ephesians. If thereís any book that speaks of the church itís this wonderful letter from the apostle Paul. Ephesians has two interesting facets that lead many to think that the Spirit inspired Paul to pen this for overall benefit of the church. First off, unlike Paulís other letters there are no personal greetings either in the beginning nor toward the end. Thatís odd in that we know that Paul spent a lot of time with the church of Ephesus and clearly loved them. (see Acts 20:17-38) Secondly, there doesnít seem to be a specific problem or occasion for the letter. Paul doesnít dwell on any specific sinful issues such as an unhealthy interest in Greek philosophy or Jewish legalism. He does however write a great deal about the church. In fact the theme verse of the book may be Eph 3:21 Ďto him be glory in the church and in Christ Jesus throughout all generations, forever and ever. Amen.í
My last two battle stations blogs (ĎBattle Station: Part 8 - The Necessity of the Church,í and ĎBattle Station: Part 9 - The Fellowship of the Kingí) have spoken of the need for a biblically driven understanding of the church of God.
We cannot and will not impact or renew our communities apart from the church. Despite what detractors within and without say, the church is still the Body of Christ, His bride of which He is the head, the temple of God, the manifestation of His wisdom, the vehicle through which He gets glory in Christ and His instrument to carry out His final mission to rescue humanity. Those ready to discard the church as an outdated and useless relic of a bygone age would do well to read, pray through and study this book that among other issues testifies of Godís love for the church. How does our Lord love the church?
He loves the church unconditionally (Eph. 1:4).
There was nothing within us that caused Him to love us. He made a unilateral decision to choose us before the creation of the world to be holy and blameless in His sight. There is nothing He saw within us that sparked this act of grace. He loved us because it was His good will and pleasure to set His love on us for His own glory and our blessing. The unconditional love of God helps to provide a strong measure of security within our relationship with Him. God will not remove His love from His people due to some inadequacy He suddenly Ďdiscoversí within us. There was no condition within us that occasioned His love, thus there cannot be anything that He might ever find that would cause Him to remove that love.
We are loved sacrificially (Eph. 1:7).
Godís affectionate, love goes well beyond having warm feelings for us. His great love moved Him to give His one and only Son, Jesus Christ for our sins. Godís love is a costly love. It is a love that pays the price of the punishment due us for our rebellion so that we can belong to our Lord Jesus Christ. Godís sacrificial love provides assurance that He will not desert the church for which His Son gave His precious blood.
God loves us persistently (Eph. 1:13).
He has given us the Holy Spirit as a solemn guarantee of our total redemption. The continuing ministry of the Spirit in the church empowers and enables us to grow more and more passionate in our worship of God, more diligent in our obedience to God and more active in our witness for the gospel of Jesus Christ. Moreover, the ministry of the Spirit is the promise that God will never grow tired of and ultimately walk away from the people of His choice.
God loves us richly ( Eph. 2:4-5).
His love is not that of a star-stuck school boy whose filled with immature infatuation. The Lord God is fully aware of all of our sin, depravity and rebellion. The great richness of His love must be seen against the backdrop of our moral depravity. We were born with a sinful human nature that rejected the things of God, while craving the things of Satan, the world and our own depraved nature. Our unresponsiveness to the things of God coupled with our craving for things of Satan, the world and our nature led to us being the objects of Godís settled, fierce, passionate and certain wrath. Why werenít we consumed? The answer is simple. God who is rich in mercy and because of the great loved with which He loved us made us alive with Christ.
God loves us exhaustively (Eph. 3:14-19).
The church has been the object of Godís affection from eternity. Weíre not some parenthetic plan b that God had to pull out of His hat when His primary plan failed. It has been and is His delight to demonstrate the full measure of His inexhaustible love toward us. It is unthinkable for anyone to assert that God has now withdrawn His love from His people and discarded us like yesterdayís newspaper. His plan from all eternity was for us to know, apprehend and delight in His infinite, redemptive love. That was true for Godís people in the wilderness, at the church in Jerusalem, for the saints at Ephesus, for the church during the reformation and for Godís church now.
Finally, our Lord loves us affectionately (Eph. 5:28-30).
Christ has an intimate, pointed, tender and affectionate love for His church whom He calls His bride. Most of us have been at a wedding or two in our time. By Godís grace Iíve been privileged to officiate several weddings. One of the highlights of each of those blessed events has been the entrance of the bride. She comes down the aisle dressed beautifully while her bridegroom eagerly (and yes nervously) anticipates her arrival at his side. As the bride makes her procession down toward her beloved the look on his face is a mixture of wonder, gratitude, humility and desire. At that moment with her gaze peering into the eyes of her beloved the bride knows above all that she truly is beautiful, loved and wanted.
Dearly loved ones in Christ.
Our Lord loves us as One who loves the bride of His desire. He sacrificed Himself for us so that we could forever be the object of His nourishment and tender, precious, cherished love. How could we ever think that the Lord who loves and bought us would ever even consider abandoning us? We are now, will be tomorrow and forever and ever be His beautiful bride, loved, cared for and always wanted.
To God be glory
in the church
and in Christ Jesus throughout all generations, forever and ever. Amen. (Eph. 3:21)
To Him Who Loves UsÖ
Pastor Lance