09/01: Battle Stations Part 7A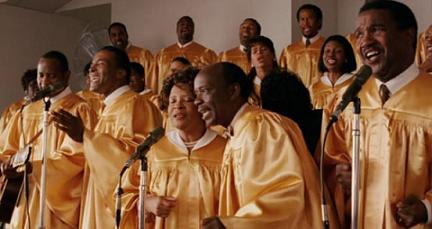 Any old school gospel fans out there?
I'm talking the Hawkins Fam, the Winans, (no not B.B. or C.C.) vintage Richard Smallwood, Rev. Milton Brunson and the Thompson Community Choir and of course the original Commissioned? When I got saved back in the early 80's they began to dominate the gospel scene. Teens and young adults loved to hear gospel music that actually sounded like it was written in and recorded in 1980 rather than 1950. As time wore on these groups changed and faded, but their sound was indelibly impressed on my mind and heart.
A few years ago one of my favorites, Commissioned did a reunion tour which brought them to Philly.
I convinced my teen-age son to join me in my journey back to old school and thus with great anticipation we trekked down to Temple U's campus for an evening of 80's contemporary gospel. Though I wasn't disappointed by much of what Commissioned sang, I was saddened and then concerned with the whole atmosphere of the 'worship' experience. I expected the usual lineup of opening acts, but was struck by the single minded theme of our 'worship'. Every group exhorted, demanded, cajoled and otherwise instructed the audience to act on faith, speak those things and jump up and grab our breakthrough. Everyone seemed convinced that if we just jumped high enough, shouted loud enough and claimed repeatedly enough that evening that three things would happen the following morning: 1) We'd get a phone call from our bank informing us that through some 'strange' accounting error our overdrawn account now had exceedingly more than enough to pay off all our bills and take that winter vacation we've always dreamed of, 2) a second call from our doctor would inform us that whatever disease or illness they found had 'mysteriously' disappeared and that we're now completely healthy, 3) a third call from our children would bring the wonderful news that they finally decided to reject the world, give their lives to Christ and would pick us up for Sunday School this coming Lord's Day!
Please understand that I'm not making fun of the very real and present trials and difficulties the saints face in our journey from this world to the next.
I especially don't want to minimize or trivialize the added dimension that trouble plays in the lives of minority people groups. All of us struggle with issues of debt, illness, unsaved loved ones and a myriad of other troubles associated with being human in a fallen, broken world. On top of that there is still the persistent reality that Black and Hispanic folks live in a racialized society. That is not to say that we live in an overtly racist society. It simply acknowledges the fact that America as with all societies skews its economic, emotional, physical and social benefits toward the dominant group. Add to that the temptation of every people group to only concentrate on those aspects of God that serve the interests of the group and its easy to see how neo-Black liberal theology has recast Biblical worship into a self-serving blessing fest. Thus we, not God have become the object of worship. Our issues, wants and whims become the reason to gather and offer praise. Such an attitude is captured in the popular song by Fred Hammond entitled 'Let the Praise Begin'
"Here we are Let's get on one accord
Leave all your problems on the outside
To be consumed with the Holy Ghost fire
Open up your mouth and lift the name of Jesus higher, say
Are you ready for your blessing? (are ya ready)
Are you ready for your miracle?
For the chains that come from the enemy Are utterly destroyed when the praises ring, hey hey(my italics)
Note how the theme of the song (and consequently the theme of much of the 'worship' of neo-Black liberal theology) views worship as a way of manipulating God to release His miraculous blessings to those who will demonstrate their faith with exuberant, expressive praise. Fred assures us that the chains the come from the enemy (elsewhere identified as sickness, disease, poverty etc.) are destroyed when we worship with sincere, enthusiastic faith. It should be no wonder why these attitudes have come to dominate the 'worship' of neo-Black liberal theology and by extension the contemporary Black church, for worship is an intrinsically theological activity. What one believes about God, salvation, Jesus Christ, mankind and the Person and ministry of the Holy Spirit will be evidently featured in worship.
Consequently, Biblically driven churches must highlight a Biblically driven doxology.
The obvious reason for this view of worship is that it grounds and focuses our worship on the character and nature of God while emphasizing the Person and work of Jesus Christ. Biblically driven worship is preoccupied with keeping God, not people as the object and center of worship. Adopting a Biblically driven doxology frees our worship from becoming captive to culturally derived agendas. Since worship is not about pleasing ourselves or primarily affirming our humanity we are free to focus our minds on heartfelt worship that truly brings glory to God. In Biblically driven worship each element of worship is taken directly from what Scripture either directly prescribes or positively describes concerning worship. Keeping worship on track with Scriptural guidelines prevents us from adding extraneous and non-biblical elements into worship just because they move our emotions or exite our culture. This does not mean that Biblically driven worship fits into one particular cultural pattern. Multi-page bulletins, beginning with one hymn, one hour long services and emotional restraint may characterize one expression of Biblically driven worship, but it is not the mandate or the norm for all Biblically driven worship. It would be unbiblical, silly and just plain culturally arrogant for anyone or any group to mandate that people from all ethnic groups express true Biblical worship the exact same way.
I'll write on the specific elements of Biblically driven worship in my next blog, but for now consider this.
Worship is our supreme privilege and sacred responsibility. Gathering before our living God on the Lord's Day is the one time of the week when we get the opportunity to extol, praise, adore, proclaim and stand in utter awe of His grace, beauty, sovereignty, holiness, power, presence, knowledge, love and salvation in and through His eternal Son Jesus Christ. How sacraligious to turn His prime time into our blab and grab time. Brothers and sisters we just cannot sit back and allow part of the church to commend to our people and our communities that God is merely the means to our own selfish ends. That like some wishy-washy parent He'll finally relent and give us what we really want (which has little or nothing to do with Him) if only we beg hard and ecstactically enough. Worship ought to be the highlight of our week not because when the 'praises go up the blessings come down' but because the ultimate blessing has come in the Person of Jesus Christ. Our Lord Jesus has freed us from our sins and restored us to the purpose of our creation which is to love, adore and worship Him who lives forever. Worship is the time when the people of God are granted a glimpse into the age to come as together we sing the song of our souls gratefully, humbly and yes Lord willing loudly proclaiming
"Worthy is the Lamb, who was slain, to receive power and wealth and wisdom and strength and honor and glory and praise!" Then I heard every creature in heaven and on earth and under the earth and on the sea, and all that is in them, singing: "To him who sits on the throne and to the Lamb be praise and honor and glory and power, for ever and ever!" The four living creatures said, "Amen," and the elders fell down and worshiped.
By the grace of God may our worship reflect the spirit of heaven as our hearts and minds are fixed and focused on declaring the praises of Him who has called us out of darkness into His wonderful light.
To Him Who Loves Us...
Pastor Lance