15/01: Open Letter to U.S. Government Regarding Haiti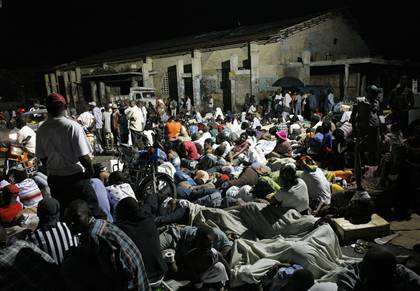 January 14, 2010
2295 Benjamin E. Mays Drive
Atlanta, Georgia 30311
United States House of Representatives
Washington, DC 20515
Dear Representative:
So many governments and organizations are raising funds, mobilizing efforts and bringing real relief to the people of Haiti. But what is missing in the national dialog about the Haitian crisis is the moral imperative of relocating our brothers and sisters out of an environment that is not fit for human habitation. The challenge of communications and transportation is still very great in Haiti. My concern is that with temperatures in the nineties, no shelter, no clean water, rampant diarrhea and other diseases, human waste and dead bodies in the streets – are there discussions to begin rapidly transporting the Haitian population to neighboring countries – including the United States? The conditions threaten law and order, riots, overall desperation and these conditions are complicated by pre-existing conditions of significant disease, poverty and a deficient infrastructure.
I am the founder and directing manager of H.O.P.E. is Helping Our People Emerge, a charitable collaborative providing community solutions to community problems. Our goal was to partner with an organization that is indigenous so that they are very familiar with the island and that has a very low overhead so that the money gets to the people! HOPE is working with an organization that has spent over 54 years in Haiti – while many larger organizations are immobilized our partner is flying aid into the Dominican Republic and carrying it across the land into Haiti. We have 130 people on the ground who are working with NGO's (non-government organizations) to reach the people without bureaucratic hindrances.
Please inform me of the efforts of the United States Government to begin a program of rapidly transporting the Haitian population to ours and other neighboring countries.
Sincerely,
Cory Ruth
Founder and Managing Director
H.O.P.E. Is Helping Our People Emerge