04/06: Does Tim Keller's Redeemer Presbyterian Church Have a Race Problem?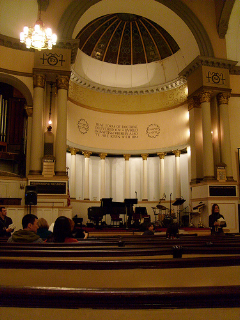 After recently receiving some very disturbing news regarding Redeemer Presbyterian Church in New York City, I have decided to come forward as a Christian and a citizen because such news demands a public outcry. What has occasioned such coming forward is the fact that there are many, including people of color, desiring change within the Presbyterian Church in America (PCA), Redeemer's denomination, who are also aware of these (and similar!) problematic matters, yet remain woefully silent. As a Christian, I speak out because the
public
truth and power of the gospel via its human mediators is at stake. As a citizen, I speak out because every citizen has a responsibility to freely interrogate public claims. As a Christian and citizen, I am even more compelled to speak out when Christian religious figures are involved in public discursive practices that may be bound up with religious meaning and thereby, implicating the Christian faith. And perhaps, as equally important, I have decided to speak up and speak out because Christian love, particularly for those involved, often requires prophetic witness.
More than three years ago, I raised passing concerns (
here
and
here
) about race and Redeemer Presbyterian Church. Like any organization, I then understood (and still understand) that it takes time for positive change to come about. One of the significant factors of bringing about change is the vision and public statements of its leader(s). As for Redeemer's leader and senior minister, Tim Keller, he has made several public claims about the constitution of his church. In his book,
The Reason for God
, Keller says, "we launched Redeemer Presbyterian Church and by the end of 2007 it had grown to more than 5,000 attendees….The church is quite multiethnic and young" (xiv). On
national television
, he even explains that the success of Redeemer is in part, due to its multiethnic constituency. While I do not question whether Keller actually believes such, I do question the veracity of such claims. Therefore, like any public claim, religious or not, it must undergo critical scrutiny if it is to be accepted, particularly in a democratic society such as ours. Otherwise, public discourse, including religious/theological, would degenerate into unhelpful at best or at worst, misleading counterfactuals.
Let's look into the internal dynamics of the church. Anyone familiar with Redeemer knows that Asians constitute about 50% of the congregation. However, the leadership does not nearly reflect the Asian demographics of Redeemer. In fact, I am only aware of one Asian on the session – Redeemer's governing body – and two who are Teaching Elders, that is, part of the pastoral staff that reports to the session in a PCA church. Interestingly, Redeemer has already been made aware of this problem. Some of its Asian members have sent a letter to the session in order to address race issues that affect many of its Asian members. The letter strongly encouraged Redeemer to act concretely in several outlined ways to rectify this gospel issue, partly because there is a fear that gifted Asian members are being overlooked for leadership positions. The letter also urged Redeemer's leadership/session to build a more personal relationship with its Asian members because this would probably lead to more qualified Asian leaders being selected.
More specifically, Redeemer has recently fired a black pastor, Mark Robinson. This in itself may not cause alarm. Pastors get fired all the time for various and sundry reasons related to character and competency. But why did Redeemer fire him? Embezzlement? Moral scandal? Lack of competence? Some persistent character deficiency pointed out in an evaluation? No. None of these. He was fired for lacking 'fit'. Note this public message that went out to Redeemer leaders:
Dear Fellowship Group Leaders,

I am writing you to let you know of a decision that was communicated to Mark Robinson late last week and to the Redeemer staff yesterday. It is with a sad and very heavy heart that I write to inform you that a decision has been made that Mark's role at Redeemer is not the best fit ideologically and ecclesially, and that it is best that we part ways in terms of Mark's employment. We firmly believe that Mark is a man of gospel character, has great gifts, and has much to offer the kingdom. We are committed to working with Mark and advocating on his behalf in the next few months to find him a new position in another church. We thought it best that Mark conclude his responsibilities with Redeemer immediately so that he can give his undivided attention to finding his next ministry position.

We are starting a process immediately to provide continued care and leadership for all who were Leader-Coaches and Leaders under Mark. Each will soon be matched with another Fellowship Group Director who will support them and their groups.

Our hope and prayer is that the Lord will give us all the grace and peace that we will need to walk through this transition. We realize that this decision has the potential to be confusing and unsettling. Please pray for Mark, and also for the Fellowship Groups Team as we seek to discern the Lord's direction.

Prayerfully yours in Christ,

Scott Sauls
Senior Director of Community Formation
Redeemer Presbyterian Church of New York City
212-808-4460 ext 1410
Anyone who has any management experience knows that "fit" is code language for not having sufficient reason for termination. It is a catch-all category that justifies any human resource decision. Also "fit" is code language for cultural dissonance. When predominant white management becomes uncomfortable with the presence and reasoning of Blacks, this usually creates what Du Bois famously critiqued, "the Negro problem." In this case, Whites perceive Blacks as standing in the way of their cultural practices and economic progress. In other words, "the Negro problem" is really a White problem – a so-called problem for White folks. James Baldwin insightfully points out: "what we call the Negro problem is produced by the white man's profound desire not to be judged by those who are not white, not to be seen as he is, and at the same time a vast amount of the white anguish is rooted in the white man's equally profound need to be seen as he is, to be released from the tyranny of his mirror."
To be sure, this is not to imply that any time a White organization terminates a Black employee the reason must be because Whites see a Black person as the problem such that their very existence constitutes the problem. However, once a reasonable person reviews the grounds of Robinson's termination at Redeemer, one cannot help but to think that race, whether self-consciously or subconsciously, was a significant consideration in the reasoning process if neither competency, nor character is the issue. In other words, if "character" is not the issue, according to Scott Sauls' announcement, then race/culture certainly seems to be. You simply do not fire a competent employee with "gospel character," especially
without any warning
or due process that the gospel (not merely corporate policy!) would seem to mandate. Is this the way grace-touting, gospel-driven people treat a person – a fellow pastor – with "gospel character?" The worse gospel-less corporate human resource department would not perform such activities.
And I am not alone in this assessment. There are members of Redeemer who have written letters to and are in current communication with the session in an effort to clarify the suspicious and inadequate character of Robinson's termination. They have made the leaders of Redeemer aware that this termination harms both Robinson and the church. They believe that this decision calls into question the integrity of Redeemer's leaders. In fact, they believe that Robinson has been sinned against and without any redress.
What's more, Redeemer leadership's unwillingness to articulate to Mark in advance that his position was in jeopardy and disinterest in working through the "differences" and "lack of fit" of their
first and only Black pastor in almost 20 years
is extremely odd for a church that prides itself for being "multi-ethnic" and culturally sensitive. In an essay on being counter-cultural, Keller said:
In general, congregations that want to embody and display the gospel to the world should have a bias toward being multi-ethnic. It should not do this in an abstract way, however. The church should seek to reflect its actual geographic community—it should seek to be at least as representatively multi-ethnic as its immediate neighborhood and community.
But he also proposes a way to bring about multiethnicity in White congregations:
The church leadership has to open itself to "sharing power" and opening its ranks to members of all the cultural groups it is seeking to encompass. This can't be done abstractly either—leaders must be gifted and experienced. But leadership development must deliberately seek to open the gates to members of each grouping…. A church that is seeking to be multi-ethnic needs to go to great pains to open itself to a variety of people…. In the end, churches should recognize that they inevitably have a "leading cultural sensibility." But once that is recognized, it should be carried out humbly and self-critically. The members of that culture should be "Strong" (as we have been defining it) and should take great pains to reach out and create space inside the church for as many different racial and ethnic groups as possible.
It appears that Tim Keller's gospel thinking far exceeds his capacity to carry it out in the structure of Redeemer's leadership. Somehow, gospel thinking in the heart is not leading to gospel practice in the church community, or the kind of taking of 'great pains' that he admittedly knows it should. As members have already indicated, Redeemer, contrary to what it preaches and teaches, has taken the easy way out by making a clean break, instead of embodying the gospel in its human resources practices, which would at least entail attempting to work through "differences." If Redeemer would mistreat and so fundamentally misunderstand one of its own loyal leaders, how does it honestly expect to have a genuine multiethnic congregation, let alone leadership team? While Keller has been providing abstract
reasons for God
in his book, he cannot provide concrete reasons for the tremendous lack of the life-changing power of this God in his own church.
Does Redeemer have a race problem? Not surprisingly, yes. Is it a multiethnic church? At best, it is cosmetically multiethnic. In the end, one wonders though if Keller, in deploying 'multiethnic' language, knows the difference between a truly diverse multiethnic church and a corporate religious plantation. Moreover, if highly regarded churches and pastors on the "vanguard" of racial and multicultural discussions within their denomination cannot come to terms with their own ecclesial internal racial problems, what hope is there for people of color in the PCA altogether?
Update:
To further contextualize this incident, Redeemer's leadership had a number of discussions related to race/culture prior to Robinson's termination. If you have any more questions about the truthfulness of these claims and/or need more evidence, contact Tim Keller and Scott Sauls of Redeemer Presbyterian Church.
Founder Xavier Pickett