23/04: The Sufficiency of the Laity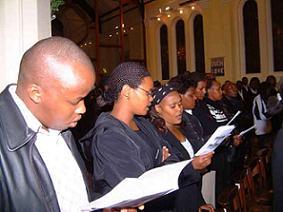 Since our anticipated and providential move into the community of Temple Hills, Maryland in June 2007, Iíve had the opportunity and privilege to be heavily and strategically involved with my local fellowship as the Pastor of Outreach and Evangelism at Hillcrest Baptist Church. There is no doubt or uncertainty in the mind and consciousness of my family that this is where we are to be right now.
The leadership and staff of the church have provided consolation during our transition; however, the leadership and staff provide consolation as a part of their job. They are expected to be consoling. After all, they are the ones who take responsibility for the growing leadership of the church. However confirmation comes in large part as the response of the few or many within the laity to the role and character of the minister.
So really this brief work is about how the people of the pews have changed my life and how God has used each of them as an instrument in my sanctification. Of course this work will not do justice to convey or describe the transformation that occurs when someone is placed in servitude to the laity, however the meaningfulness of this spiritual union between the leadership and their people within the local fellowship is captivating, life changing and awesome.
One of the questions that I could never be taught to ask in the seminary classroom but have since June been compelled to ask without hesitation to the laity is, ďWhat other great and awesome things is God going to do amongst us today? You cannot really be taught to ask this sort of a question. This question is really an effect or response to the transformation that occurs when the leadership and laity work together in love for Christ. This is the question of Joshua 4, Ezra 6, Acts 2 and Revelation 21. It is the question voiced by believers who join in local fellowship in service to their King.
In recounting their experiences in ministry, many describe the laity in strictly positive or negative terms according to their experiences with particular people and positions they have held. I choose not to take this route but at this time seek to focus on the whole of the unique and captivating experience of being a minister in this place and thereby render unto myself and to God an assessment of my own feelings brought on through our transition here.
As always, there is not a day that goes by when we donít learn something new about something or someone somewhere. Organized and official ministry roles and expectations reconstitute this learning process and reduplicate it daily until you are changed for either better or worse. This learning process is evidenced even through spiritual promptings that demand attention, illustrations that paint the world as youíve never seen it or through a sense of desire for people, your people-your laity, which extends beyond the bounds of ordinary. Although ministers are neither elevated above the liability of human constraint nor removed from the normality of finite reality, they are changed and transformed into new or at least different people.
For me, the role of minister has proven to be a redemptive position and process, a transformation under and never without the foundational work of Christís salvation and a role that is to be placed beside the revolutionary meaning of servitude.
And I can never really leave the position, my title or my work, even though I may walk out of my office, down the stairs and out of the back door and down the street to my home. The position is far more substantive than the material stratum of an office can sustain. The promptings, the illustrations and the desire, they never really leave. But why not? Because I have been benighted with such a title-no. Because the people, the laity, recognizably exist around me and are in my life.
Therefore this entire process of becoming someone new and someone even more unique than before (and demanding the same of others), has caused me to more deeply realize a valuable dimension and attribute of Christís Church-the meaningfulness and sufficiency of the people of His local assembly.
We see throughout Scripture (Genesis 1; 12; Matthew 10; 28:16) that humanity, Christís creation, is sufficient to carry out His work. God has not created someone or something more meaningful than humans through whom He seeks to do His work and carry out His purpose on this earth. Humans are His principal agents. Foundationally, all the sufficiency of humanity is based upon Christ the human, the Son of man, whose human blood was the perfect offering before the Father (Mark 15).
As the crowned jewel of the created order and as believers with benighted hearts of flesh, we present the offerings of self and sacrifice that send up the sweetest of smells to His nostrils. In short, all that we do in obedience to God is good enough and sufficient to meet Godís desire and quench Godís appetite to receive continued glory and recognition. God does not think, ďI wish I could get more praise and honor than what these sinful humans give to me.Ē After receiving the offering of our lives each day, God is full and satisfied. God did not and does not seek to create a superhuman or human mutation from the best of humanity and wish that subject to praise Him. He simply continues to create more fallible humans. He finds our offerings on His created earth to be good enough to give Him the glory He desires and deserves.
The satisfaction God receives when His creation exercises and executes His mission and the pleasure God receives when people sacrifice and offer themselves to Him in service is the foundation for the satisfaction and sufficiency that I as a minister receive as I operate in service to the laity.
And right now I most readily understand my satisfaction and pleasure in service to the laity through my relationships and friendships with them. My need for deep, honest and transparent relationships is meet within the body of the laity. My need for friendship is meet within the laity. My need for others to bear my burdens is meet within the laity. The reward of seeing individuals used by Christ is meet within the laity.
Of course I have relationships and friendships outside of my local church fellowship. But I and the people of my local fellowship have been particularly designed and brought together to be in unique relationship and friendship with each other to fulfill Godís work around us. It is indeed a contradiction when I meet individuals at various churches who have no deep and sustaining relationships with the people at that church. Members of a local fellowship should have relationships with each other that are unique when compared to those relationships that they hold outside of their local church.
The wonderful relationships and dear friendships I have with the people of Hillcrest are the representation of the complete and utter satisfaction of a servant leader. Being amongst this fellowship has caused me to realize how much I need my fellow believers of my local assembly. To this perceived puppy love someone may respond, ďYou are in the honeymoon stage of your ministry in that area, wait a couple of years.Ē However realistic and reliable such a response may seem as given with a shrug of the shoulder or a laugh which trails into the distance, I will relegate that notion to the sarcasm and cynicism for which only the Enemy can be pleased and benefit.
A relationship and friendship within the local assembly, unlike the union of friends who go to different churches, is being shaped by the struggles and needs of that particular fellowship and is being patterned after and in support of Godís unique plan for that local fellowship. And thatís not to mention the multitude of reasons why God may have a group of people sitting beside you in the pew or in the Sunday school classroom or standing in the parking lot near you. Although Christís works may be exalted every Sunday, this potential work of Christ often remains undefined and undiscovered within the churchís life, purpose and vision.
In both my sanctuary seat and in my life, I am in a special place. The sufficiency of the relationships and friendships that I experience in my local fellowship is a subset of the sufficiency of Christ in service to the Father. Therefore, I am in a sufficient place. The minister or ministry that is beleaguered and overwhelmed by cynicism, disagreement or discouragement is not hard to find. However, at that place there also lies an insufficient minister and the dissatisfied Christ. The sufficient ministry is founded upon the sufficient laity and the sufficient laity is founded upon the sufficient Christ. Without a doubt, it is Christís continuing motive and desire to fill me with the life and vitality of His people as I walk in service to Him and them.
Co-Founder Michael Mewborn