11/04: Rice, Republicans and Race in this Race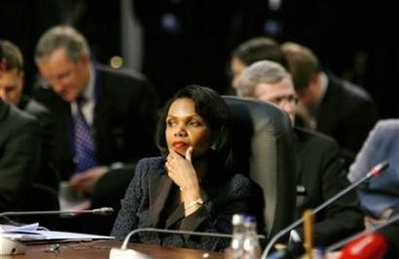 Without a doubt this has proven an historic election cycle. Barack Obama added to the already heightened excitement brought on by the long anticipated run of the first viable female candidate. Already the Democratic primaries has witnessed record turn outs and regardless of the winner it is expected that interest will remain strong. Many believe the democrats have an aesthetic advantage this election cycle because of the diversity of their candidates. In fact, the notion of a so-called dream ticket that would include both Clinton and Obama (usually mentioned with Clinton at the top) is spoken of with positive regard. However, an interesting prospective recently presented itself seriously for the first time: the possibility of a Condoleezza Rice Vice Presidency. To date this is purely conjecture, however, the story is significant because it represents a shift from serious consideration of Condoleezza Rice for the Executive to a serious consideration by Condoleezza Rice for the Executive. Her answers to the question about considering the Vice Presidency has been sophisticatedly elusive. When asked recently she responded saying 'I don't know how many ways I can say no' – try just saying no madam secretary. Civil War general William Sherman famously grounded rumors about a run for the Executive in unequivocal terms, saying "If drafted, I will not run; if nominated, I will not accept; if elected, I will not serve." Asked to give a similar answer and Condoleezza Rice refused. The British Telegraph pointed out that she has 'failed to stop the rumors in Washington that she is interested in the vice-presidency.' Other political insiders have acknowledged that she has been forthright about her desire to
redefine her legacy
. Another decade of public service at the highest levels could afford her the opportunity to do that. Furthermore, sources reveal that Secretary of State Condoleezza Rice has made her desire to be considered on the next Republican ticket known throughout influential conservative circles.
But it is this possibility and more specifically its racial connotations that I would like to initiate a dialogue about. Recently I was discussing the possibility of a McCain-Rice ticket with a friend and he suggested that such a ticket would lead Americans to believe that the addition of Rice was merely a response to the diversity of the democrats. Yesterday, when speaking with a professor of literature here in Germany the notion was revisited. Upon hearing that Condoleezza Rice was being seriously considered for the vice-presidency she responded with disgust 'what a nasty trick [by the Republicans] to garner black votes' she quipped. Interestingly, I suppose had he eluded assassination Martin King, Jr. would have risen to the Presidency in the same manner as Nelson Mandela in South Africa perhaps instead of Carter in 77' but certainly he would have been considered instead of Jackson in 84' and 88'; Colin Powell was favoured to win the 1996 elections before voluntarily bowing out; George Bush was pressured in 04' by the Republican elite to replace the embattled Cheney with Condoleezza Rice...in light of this, it seems clear the country has been prepared for a black presidency for quite some time now. Interestingly, it was the Republican party that urged Colin Powell to consider the nomination in 1996 and Republican party insiders who pressured President Bush – a Republican President – to replace embattled Dick Cheney with popular Condoleezza Rice on the 2004 ticket. Republicans have a much longer list of viable African American presidential and otherwise vice-presidential candidates then the Democratic party. The Democratic Party went rummaging through the Illinois State Senate to find a diverse candidate precisely because there is a paucity of electable African-Americans in their Party. Add to that, the irony of Obama and Hillary owing much of their viability to the Bush administrations' promotion of Powell and Rice to high profile cabinet positions. Americans are much more comfortable with the possibility of a black man or a women presidency because Americans have become accustomed to seeing Powell and Rice contribute responsibly and significantly in the governance of our country.
There is a sense in which engaging in this sort of identity politics is tantamount to entering a serious exchange over the flatness of the earth. New science has simply discredited the old notions of race. "The enormous advances in genome studies have effectively discredited the whole idea of 'race' as a means of categorizing humans. And however ethnicity may be defined or subdivided, it is utterly unscientific and retrograde to confuse it with color...a false measure of mankind (yes, mankind) and an inheritance from a time of great ignorance and stupidity and cruelty, when one drop of blood could make you black"[1] and therefore less then fully human. The next United States President will be asked to administer one of the world's largest enterprises – the United States government – that employs millions of people around the world. He or she will be asked to direct the most lethal military in the history of the earth; and navigate the world's largest, most dynamic economy, changes in which have global implications – Am I expected to believe that his or her competency to do this job will be derived straight forth from their epidermis or their genitalia!?!
It should be a profoundly offensive notion to any freedom loving person in a democratic context, that the promotion of an inexperienced new face somehow represents black achievement while the promotion of a sitting Secretary of State, former National Security Advisor, former Stanford University Provost, and chief confidant to the sitting President of the United States should be considered a nasty ploy to garner black votes! Given the comprehensive evaluation we have had of her over the past twenty years but more specifically over the past ten years, she would seem the natural selection – contra wise, Obama and Clinton would seem the nasty ploy to garner black votes. As much as I regret the infusion of race and gender into our current Presidential politics – it was almost inevitable since none of us really know Barack Obama in any real way and have very little content by which to judge a Hillary Clinton Presidency. Obama's relationship with the electorate is less then five years old. Americans have the challenge of contextualizing him in a narrow space of time. As we scramble to contextualize him, his relatively new relationship with the American public rightly intensifies concerns about his ambiguous past, his apparent liberal world-view, and his dubious associations. But these concerns open the door to considerations of race and gender precisely because these two Affirmative Action cases (Obama and Clinton) would not be where they are today divorced from those considerations! However, injecting considerations of race and gender in the case of Condoleezza Rice is incredibly infantile, ridiculous and arbitrary. The time to discuss that with regard to her was nearly a decade ago. Condoleezza Rice is now the most qualified name being explored for the Executive – certainly more qualified then Obama and Clinton with their resume's combined. I am not asking you to vote for the ticket that she may be associated with simply because she is a black woman...contra wise, I am asking you to vote based upon the content of her character and the quality of her leadership alone as judged through her experience and until it is confirmed that she is on the ticket, to dismiss with vehemence anyone who would reduce this possibility to a mere racial and/or gender consideration. Condoleezza Rice represents all that blacks and feminist have been fighting for these many years! Lets not dismiss her simply because she is a conservative: this is the change we've been waiting for – real live personal achievement with slave blood still running through her veins, Jim Crow memories yet playing on the canvas of her mind, and still single – the requisite consequence of female strength and independence.
C. Jerome Ruth
Endnote:
1. Wall Street Journal,"The Peril of Identity Politics"; available from http://online.wsj.com/article_email/SB120062413171299477-lMyQjAxMDI4MDAwNDYwMjQ0Wj.html; Internet; accessed 18 January 2008.