20/08: Black Weblog Awards Finalists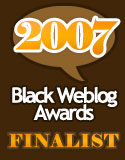 Thank you for your nominations! The results are back and we have great news. Reformed Blacks of America's blog is a
finalist
for 2 categories:
Best Faith-Based Blog
and
Best Group Blog
.
This presents a great opportunity for more interaction between other Blacks, Christian and non-Christian alike, and Blacks doing reformed theology in creative and exciting ways. Therefore, we need you all to show up and vote one last time so that we can win our two categories. So if you did not vote the first time, you have one last chance.
Please take just a few minutes to vote for Reformed Blacks of America's blog to be the winner of the Best Faith-Based Blog and Best Group Blog at
www.blackweblogawards.com
before August 31st.
Vote now before you forget!