25/06: Why Should White Guys Have All the Fun?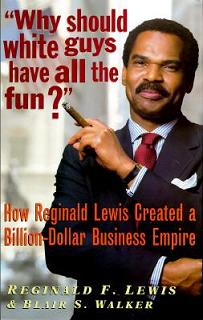 Some may remember the book published some years ago by the same title. It is the story of late author Reginald Lewis, who grew up in a Black family in segregated Baltimore. He attended parochial school, worked his way through college and Harvard Law and became a successful attorney and highly visible business executive, capping his career with the leveraged buyout of conglomerate Beatrice International Foods for $985 billion in 1987. His personal fortune was $400 million. The book is not only an inspiring bio/business study but deftly conveys Lewis's concerns not only about his work but also about his family, race and his own death. Even though my piece veers from the nature and theoretical philosophy behind his work, there is an interesting transcendent ideology which he recognizes. But how can Lewis' basic assertions provided first and strongly by his title and mine, rationally be connected to the American theological realm and culture and not only be contained within the realm of wealth and economics? The rest of this work seeks to answer that very question.
But in order to build-up to this answer, we must first start with some basic theological principles. One basic theological and biblical premise is that the Bible is a work from God through the Biblical author which displays a high degree of interrelation, interdependence and interconnectedness with itself and the world around it. In other words, each verse and concept of the Bible opens new insight and pathways for how we think and live in every aspect of life. The more I read Scripture, the more I realize the deep interconnectedness of its concepts, motifs and themes. Themes such as creation, first of course found in Genesis, can be traced in various ways through each book of the Bible. With this example in mind, the Bible can be seen as a web of varying relationships. In short, everything in the Bible has something to do with everything else in the Bible. Each aspect (book, theme, theology, authorial literary device, etc.) of the Bible is dependent and in relationship with every other aspect of Scripture. Scripture is one big web, i.e. a book in which everything in it connects or has relationship in some way. This is one of the reasons why Scripture can and should be considered closed.
Some well-known scholars have realized that the Bible is vastly and deeply connected at every turn and down every avenue and have therefore gone about finding paths to discover and elucidate more and more of our Lord's interconnectedness. (The best of thinkers are acute, intentional, selective and gifted synthesizers; thinking is synthesis and fusion.) Their search and discovery is driven no less by an utter and unquenchable fascination with such a realization of the natures of Scripture and God. They are, as it were, caught in the web.
Beyond the evangelical responses and involvement in American culture wars, the marketplace and places of worship and study, some evangelicals consciously and intentionally write from the realization of the sheer depth of relationship between God, the world and His creatures. Some evangelicals write, not primarily to provide Christian response to secularism but because the relationship between God and His creation is so strongly geared toward continuing illumination, unending conceptual and practical relationship and infinite influence. These thinkers and writers sense that there is always more to discover and realize not only in order to clarify problems or situations that already exist, but in order to chart definite expectations and anticipations for human lives and Christian virtue. God's revelation invites some evangelicals to submit to the never-ending realization of Biblical interconnectedness. This submission is both a choice and a continual wanting fulfilled.
The nature of submission to Biblical interconnectedness is not merely understood as a "bowing to Scripture", an exercise of "daily devotion to Christ" or "a pursuit of holiness." It is rather conceived as a nightmarish sort of constant nagging where God's reality is visualized as the existence of multiple relationships at each turn. With all of its themes, relationships and continuity, the Bible is conceived as a platform for thought and creativity and not merely the rule to settle all disputes with the turn of a page. The text is captured as a force which pushes one further into the world and in this sense provides both an impression and expression of what is around us.
This approach to the nature of Scripture described above is the relish of many in both the liberal and conservative academic communities and is appreciated and valued by a modest crowd in mainstream Christianity. Understandably, many in mainstream Christianity simply want "the basics", "the principles" and care little for involved spectrum and nuances of religious thought. Nonetheless, mainstream Reformed crowds are continually provided with publications and direction from the academic community. This is because some in the Reformed academic community realize and have long sense grasped the notion of Biblical interconnectedness and relish in it and want others to as well.
Vern Poythress, Richard Pratt, John Frame and Kevin Vanhoozer spend thousands of pages developing the relationship between "this" and "that" or the meaning of a Biblical text in relation to the meaning of fill in the blank. They engage in thought not merely because they feel they must respond to sin in our culture. They engage in thought fundamentally because they have bowed to Biblical interconnectedness and the relational God. In short, the premise is: if it exists-whether as a person, event or thing, God must have something to do with it simply because He is God. And furthermore, if "it" exists, "it" must have something to do with something else. Now to the sad disparity.
Unfortunately, not only have many capable Reformed Black folks not assumed, taken upon themselves or been captivated with a sense of Biblical anticipation and creativity, they have shunned it. Furthermore, what is more greatly regrettable is that Reformed Blacks who see the value of vivid creativity and originality among White Reformed folks, in some warped sense discourage originality and critical thought among Black Reformed folks. Often when Reformed Black folks think originally, creatively or address the reformed culture, they are told in short to just shut up and remember that the Bible is infallible and sufficient. Or better yet they are told to shut up and go read and stop thinking so much. Mainstream Reformed culture is unaware of the fact that Black Reformed seminal thinkers, in both thought and practice, are braced to reauthenticate the meaning and perspective of both infallibility and the sufficiency of Scripture. I wonder if Reformed Black folks realize the necessity of Black seminal thinkers in any area of life. (While Holy Hip Hop is growing in our communities as a unique form of expression relative to the rest of music in evangelicalism, the notion and need for Black seminal thinkers goes unrecognized.) Instead, Reformed Blacks have come to discover a unique passivity in books and reading. Many Reformed Blacks who have attempted to assume the vestiges of a puritanical lifestyle show an increased lack of creativity, uniqueness and general sensitivity.
Reformed blacks have allowed the sermonic thought layout of "meaning leading to application" to dominate their discourse, thought and interaction with others. Seminal thinkers (Black, White and whoever) allow the thought layout of "meaning in exchange and influence with meaning" to dominate their discourse, thought and interaction. Seminal thought generally is not birthed from the stratum and process of meaning leading to application. This framework in relation to overall thought process has limitations. This is appropriate for sermonic layout but at the root, seminal thinkers do not process this way. The sermonic layout of thought is not the highest form of thought, but it is perhaps an easier form for distribution and consumption. Seminal thinkers throw various notions together, force them to collide, and then pick up the pieces. For example, the question for the seminal thinker is not: "How do we apply a certain text of Scripture to the life of a single parent mother?" The process of the seminal thinker is that he/she has God or the text of Scripture in one hand and the meaning of the person and work of the single parent mother in the other hand, the seminal thinker then claps his/her hands together and goes about the never-ending process of picking up the pieces and putting them together, or uniting them.
When White Reformed thinkers are original, creative or provocative, generally their views are welcomed or at least are afforded balanced and meaningful discussion. When Black Reformed thinkers are original, creative or provocative, generally their views are overly-criticized, maligned or considered valueless. This has caused some Black Reformed thinkers to retreat to a puritanical lifestyle in order to deafen and beat back their creativeness. While White seminarians and young White thinkers are welcomed by their peers and predecessors for their creativity and insight into relevant contexts, young Black students and young Black thinkers continually face apprehension and disdain from a number of Reformed Black contingency. In turn, while younger White thinkers and spiritual activists spend time and energy engaging relevant contexts, young Black thinkers and spiritual activists face mistrusting and agitated opposition.
This climate of criticism has given way to a racial double standard that lies at the very heart of Reformed Black spirituality. Biblical and theological talent, ability and creativeness are esteemed among Whites but discouraged among Blacks. I am not describing and illustrating this double standard in order to provide a lesson in Black history. Although this double standard is recognizable for its historical reputation and is repugnant, it is principally important because it is a phenomenon which is joined with every aspect of Black life and religious experience. This double standard is seeking to shape the next generation's exercise in theological and biblical thought but it will not succeed because such opposition defies the very nature of our relational and sufficient God. Who are we to say that His sufficiency has been exhausted.
This double standard is in large part based on the lack of a meaningful and robust sense of Black Anticipation and Expectation based on the Creator God. We continually suffer from a dehumanization that discourages us from appreciating or valuing our own past contributions and more importantly recognizing our inherent and innate ability to think, create and contribute. Black Reformed spirituality has in the past and is presently based on the Fall and therefore in a warped sense has lead to an apprehension, mistrust and narrow-mindedness toward originality and creativity. But the present Black Reformed spirituality must conceive of the Creator and His creation event in order to develop a robust sense of humanization and Black Anticipation and Expectation, if we desire a reformation from within the Black Community.
Co-Founder Michael Mewborn