04/06: Expository Preaching: An Apostolic and Black Re-Evaluation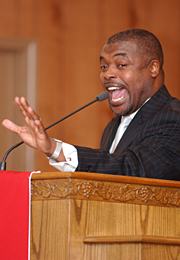 Expository preaching is arguably one of the main hallmarks of reformed public worship. In almost every reformed book on ecclesiology and public worship there is a chapter or section on expository preaching. Most reformed folks would contend if the sermon were not preached expositionally, then it was not "true to the text" or much of a "biblical" sermon. And the same is just as true in many Black Reformed circles. Some Black Reformed folks think this is exactly what's missing in many Black churches in order for these churches to get back on the supposed right path to become a healthier church.
However, if the truth be told, many people (Black, White, etc.) who preach expositionally, don't really preach expositionally anyway. Just because you walk through a set of verses and/or book of the Bible each week consecutively does not necessarily mean that you are preaching expositionally in the way most people (and textbooks) define expository preaching. I don't ever recall a time when I've seen an expositional sermon on the same text by two different people "expositing" the text the same way or saying the same thing. The underlying logic for this occurrence is that everyone is different. My response, assuming the hidden logic of expository preaching is true: shouldn't our expository preaching all be saying the same thing, if we are all working our way through the same text verse-by-verse? The fact of the matter is that expository preaching is relative, especially to the preacher's context/audience. We all know this. Reformed preachers disagree with one another all the time over what constitutes an expositional sermon. So why in the world do Reformed people, especially some Black Reformed folks put such a premium on expository preaching as if this is the
only
"biblical" way to preach, even though, it has no command/sanction in the Scripture itself?
The
goal
of preaching is not expositional preaching, but rather to present and proclaim Christ as resurrected. Perhaps, therefore, our preaching should look like and do more of what the apostles did in their preaching/teaching, which was thoroughly and paradigmatically defined by the Christ event, particularly in its socio-Christotelic dimensions that were hardly "expositional." In other words, just as the Christ event paradigmatically defined apostolic preaching relative to their historical and social context, it should also define our apostolic witness in preaching relative to our historical and social context. Paul did not write to the church at Ephesus an expositional letter beginning at Genesis 1:1 to Malachi. Rather the apostles were concerned with bringing Christ to bear on the particular jacked up lives and social situations of the people there. That is not to say an epistle that explicated the entire text of Genesis or the Torah would not have been proper or helpful, but rather it may not have been as relevant, if forms of proto-Gnosticism or ecclesial racial/ethnic inequity are running rampant.
I would suggest, contrary to popular opinion, many sectors of the Black Church are probably more true to apostolic preaching than many White (Reformed) churches because of its basic commitment to answering [the question]: "what does the gospel of Jesus Christ have to do with real concrete struggles and evils, especially among the poor and marginalized, with a view toward mobilization and redemptive action?" In contrast, many conservative White churches are usually caught up with preaching "expositionally" through a book/chapter and stuck in the realm of ideas and debates that hardly have any material-redemptive significance. Often times it seems as though preaching through a book of the Bible or chapter is used as an excuse not to engage current issues and evils in the world. And what is even more striking on the other side of the fence among Black conservatives, as long as I have been under and heard evangelical/Reformed Black expository preaching, I cannot ever recall a sermon on HIV/AIDS, low expectations, or the cradle to prison superhighway that affect so many Black folks. So from the looks of things, most Black expositors are succumbing to the same inherent problems of expository preaching just like their White counterparts probably because it was primarily invented for their (White) context. Therefore, expository preaching is parochial pedagogical advice, not a universal divine mandate.
But I wonder how much more Tyrone and Shenequa would respond to gospel-centered, biblical and however-else-you-want-to-qualify-it preaching if it was less "expositional" and umm, more like our Black preaching tradition, past and present even? Perhaps, conservative Black preachers (read: Black evangelical/reformed expository folks) could learn from some of our Black "traditional," "charismatic" or "prosperity" preachers? But we would never admit that, would we? And what's wrong with just "topical preaching," again? It seems like to me Jesus and the apostles were "topical" preachers par excellence dealing with the important topics in the church and world. Heck, what's wrong with a conversation of sorts without being behind a box? But I digress.
Contrary to most Black Reformed people, the Black church does not need more Black preachers who are
socialized
to merely preach expositionally like their White counterparts. Historically and presently, the Black church has done an excellent job in cultivating brilliant Black preachers. So why in the world would we rather conform to Western European male homiletics and trade in one of our significant gifts to the church, if it truly manifests the beauty and redemption of Christ to his church? That would be like requiring Martin Luther King, Jr. in his "I Have A Dream" speech to speak from a particular chapter or text from the Bible verse by verse in a certain manner while still having the same redeeming effect instead of the way God originally lead him. Therefore, what the church could use is a type of preaching that is connected to Black church traditions and the broader church. It is preaching that is more theologically indigenous, dialogic in nature and prophetic in its ethos. In other words, what the church could use is
chocolate milk
preaching!
Co-Founder Xavier Pickett
Related:
"Response to Q on Expository Preaching."