21/10: Can Rosa Parks Sell Pickup Trucks?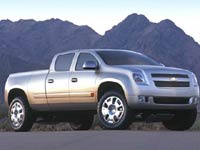 Chevy's icky, exploitative new ad.
The spot: Singer John Mellencamp leans on the fender of a Chevy pickup, strumming an acoustic guitar. He sings, among other things, "This is our country." Meanwhile, a montage of American moments flies by: Rosa Parks on a bus. Martin Luther King preaching to a crowd. Soldiers in Vietnam. Richard Nixon waving from his helicopter. And then modern moments: New Orleans buried by Katrina floodwaters. The two towers of light commemorating 9/11. As a big, shiny pickup rolls through an open field of wheat and then slows to a carefully posed stop, the off-screen announcer says, "This is our country. This is our truck. The all-new Chevy Silverado."

This ad makes me—and, judging by my e-mail, some of you—very angry. It's not OK to use images of Rosa Parks, MLK, the Vietnam War, the Katrina disaster, and 9/11 to sell pickup trucks. It's wrong. These images demand a little reverence and quiet contemplation. They are not meant to be backed with a crappy music track and then mushed together in a glib swirl of emotion tied to a product launch. Please, Chevy, have a modicum of shame next time.

I should probably leave it at that (the poor ad is just trying to sell trucks, after all, in its own muddle-headed way). But this isn't your basic flag-waving car commercial. It mixes patriotic images with some heart-rending, shameful episodes from our past. And the ambiguity is furthered by the presence of John Mellencamp—a guy who, in a different incarnation, used to make semipolitical statements about the dark side of the American dream. A guy who wrote an open letter in 2003 arguing that the Iraq war was "solidifying our image as the globe's leading bully" and wondering why President Bush hadn't been "recalled" yet. Mellencamp once sang the line, "Ain't that America" with a decidedly bitter tinge. Now he sings the remarkably similar line, "This is our country," and it's hard not to wonder what he means by it.
To read the rest of the article, click here