09/08: Powder-Wigged Negroes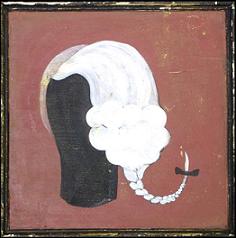 Ever see those photos/pictures of 15th, 16th, 17th black people decked in white powdered wigs? They always elicit a laugh as I realize that people, even black people, wore them. In 2006, it is hard to believe there was a day when we were so culturally co-opted (for whatever reasons) that we would wear such a thing.
Anyway, here is a scenario that I see played out in our day ever-increasingly with a thousand variations. I myself experienced it to a degree. See if it sounds familiar.
1)
Black person grows up in traditional black church.
2)
Black person has eyes opened to some of the marvels of grace. (This is a fancy way of saying they become reformed with the attendant accumulation of Banner of Truth books and the like).
3)
Said black person, after leaving black church to join a predominately white reformed one, then spends exorbitant amount of ecclesiastical energy polemicizing against the black church and all of its emotional excess, hooping, etc.
At this point in his/her personal faith journey, this person is much more oriented to the polemics, not irenics of the reformed faith. He/she is much more interested in the preservation of a certain set of particular positions, not the propagation of a broad contextualized reformed vision. In essence, they are 21st century black folks fighting for 17th century white theological constructs. They've become powdered-wigged Negroes.
Now, I am not suggesting that there are no problems in the black church.
Black puritan types
are always denouncing and pointing them out and I largely agree with them. Still less, am I disregarding the rich reformed deposit of Puritan writings. My personal devotion has been deepened and continues to be by this writing legacy. Almost daily, I use "The Valley of Vision" as an aid to private prayer.
I simply want to make a plea for gospel humility on the part of us all, but especially those of us with precisionistic preservationist proclivities, those of you who've been gifted with the intellectual ability to scruple over the finer points of classic reformed things. Please be patient with us more progressive creative types, who, though maybe a little sloppy in the details (maybe not), earnestly desire to speak in a contemporary fresh voice to black people with real reformed truth.
As brother X mentioned in a
recent post
, there are just too few of us black folks trying to find our way (and maybe help a few others) in the larger reformed world. So we shouldn't (and can't afford to) have a dog in every 17th century reformed theological fight.
Don't know but is there something endemic to we reformed types that we relate to people as repositories of either ill or well formed theological essence to be corrected or commended accordingly? It's kind of like the way we
read and treat the text of scripture
so often.
Letting the word richly dwell in us at this point would be oh so helpful:
2:1 So if there is any encouragement in Christ, any comfort from love, any participation in the Spirit, any affection and sympathy, 2 complete my joy by being of the same mind, having the same love, being in full accord and of one mind. 3 Do nothing from rivalry or conceit, but in humility count others more significant than yourselves. 4 Let each of you look not only to his own interests, but also to the interests of others. 5 Have this mind among yourselves, which is yours in Christ Jesus, 6 who, though he was in the form of God, did not count equality with God a thing to be grasped, 7 but made himself nothing, taking the form of a servant, being born in the likeness of men. 8 And being found in human form, he humbled himself by becoming obedient to the point of death, even death on a cross.
….and then maybe take a few wigs off.
Mark Robinson