Archives
You are currently viewing archive for November 2007
Although, Thanksgiving is behind us, this is still something to ponder for many reasons, probably the least of which is because Thanksgiving will be coming back around.
=======
Why We Shouldn't Celebrate Thanksgiving
By Robert Jensen
Thanksgiving Day should be turned into a National Day of Atonement to acknowledge the genocide of America's indigenous peoples.

---

After years of being constantly annoyed and often angry about the historical denial built into Thanksgiving Day, I published an essay in November 2005 suggesting we replace the feasting with fasting and create a National Day of Atonement to acknowledge the genocide of indigenous people that is central to the creation of the United States.

I expected criticism from right-wing and centrist people, given their common commitment to this country's distorted self-image that supports the triumphalist/supremacist notions about the United States so common in conventional politics, and I got plenty of such critique. But I was surprised by the resistance from liberals, including a considerable number of my friends.

The most common argument went something like this: OK, it's true that the Thanksgiving Day mythology is rooted in a fraudulent story -- about the European invaders coming in peace to the "New World," eager to cooperate with indigenous people -- which conveniently ignores the reality of European barbarism in the conquest of the continent. But we can reject the culture's self-congratulatory attempts to rewrite history, I have been told, and come together on Thanksgiving to celebrate the love and connections among family and friends.

The argument that we can ignore the collective cultural definition of Thanksgiving and create our own meaning in private has always struck me as odd. This commitment to Thanksgiving puts these left/radical critics in the position of internalizing one of the central messages promoted by the ideologues of capitalism -- that individual behavior in private is more important than collective action in public. The claim that through private action we can create our own reality is one of the key tenets of a predatory corporate capitalism that naturalizes unjust hierarchy, a part of the overall project of discouraging political struggle and encouraging us to retreat into a private realm where life is defined by consumption.

So this November, rather than mount another attack on the national mythology around Thanksgiving -- a mythology that amounts to a kind of holocaust denial, and which has been critiqued for many years by many people -- I want to explore why so many who understand and accept this critique still celebrate Thanksgiving, and why rejecting such celebrations sparks such controversy.

Once we know, what do we do?

At this point in history, anyone who wants to know this reality of U.S. history -- that the extermination of indigenous peoples was, both in a technical, legal sense and in common usage, genocide -- can easily find the resources to know. If this idea is new, I would recommend two books, David E. Stannard's American Holocaust: Columbus and the Conquest of the New World and Ward Churchill's A Little Matter of Genocide. While the concept of genocide, which is defined as the deliberate attempt "to destroy, in whole or in part, a national, ethnical, racial or religious group," came into existence after World War II, it accurately describes the program that Europeans and their descendants pursued to acquire the territory that would become the United States of America.

Once we know that, what do we do? The moral response -- that is, the response that would be consistent with the moral values around justice and equality that most of us claim to hold -- would be a truth-and-reconciliation process that would not only correct the historical record but also redistribute land and wealth. In the white-supremacist and patriarchal society in which we live, operating within the parameters set by a greed-based capitalist system, such a process is hard to imagine in the short term. So, the question for left/radical people is: What political activity can we engage in to keep alive this kind of critique until a time when social conditions might make a truly progressive politics possible?

In short: Once we know, what do we do in a world that is not yet ready to know, or knows but will not deal with the consequences of that knowledge?
To read the rest of the article, click here.
From
The NY Times
:
The worst humanitarian crisis in Africa may not be unfolding in Darfur, but here, along a 20-mile strip of busted-up asphalt, several top United Nations officials said.

A year ago, the road between the market town of Afgooye and the capital of Mogadishu was just another typical Somali byway, lined with overgrown cactuses and the occasional bullet-riddled building. Now it is a corridor teeming with misery, with 200,000 recently displaced people crammed into swelling camps that are rapidly running out of food.

Natheefa Ali, who trudged up this road a week ago to escape the bloodbath that Mogadishu has turned into, said Monday that her 10-month-old baby was so malnourished she could not swallow.

"Look," Ms. Natheefa said, pointing to her daughter's splotchy legs, "her skin is falling off, too."

Top United Nations officials who specialize in Somalia said the country had higher malnutrition rates, more current bloodshed and fewer aid workers than Darfur, which is often publicized as the world's most pressing humanitarian crisis and has taken clear priority in terms of getting peacekeepers and aid money.

The relentless urban combat in Mogadishu, between an unpopular transitional government — installed partially with American help — and a determined Islamist insurgency, has driven waves of desperate people up the Afgooye road, where more than 70 camps of twigs and plastic have popped up seemingly overnight.

The people here are hungry, exposed, sick and dying. And the few aid organizations willing to brave a lawless, notoriously dangerous environment cannot keep up with their needs, like providing milk to the thousands of babies with fading heartbeats and bulging eyes. "Many of these kids are going to die," said Eric Laroche, the head of United Nations humanitarian operations in Somalia. "We don't have the capacity to reach them."

He added: "If this were happening in Darfur, there would be a big fuss. But Somalia has been a forgotten emergency for years."
To read the rest of the article, click here.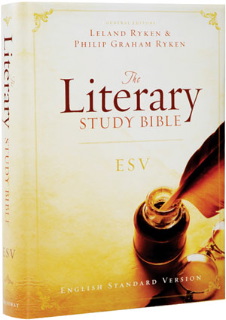 Editors' Preface to the Literary Study Bible
:
This book is a literary guide to the entire Bible. We have defined the concept of literature very broadly as anything having to do with how biblical writers have expressed their content. The foundational premise of all verbal communication is that meaning is conveyed through form, starting with language itself but moving beyond that to a whole range of literary forms and genres. There is no meaning without the form in which a piece of writing is expressed.

This means that when we read the Bible, literary considerations are not optional features to which we might attend only if we have an interest in literary matters. We need to pay attention to the how of a Bible passage as preliminary to understanding what is said.

This literary Bible explains how biblical authors have embodied their messages in their chosen literary forms. The most important features of this book (the only one of its type in existence) are as follows:

* It is a study Bible in the sense of containing the text of the entire Bible, accompanied by commentary.
* It is unlike other study Bibles in that the commentary focuses on the literary features of the Bible, as distinct from historical, cultural, or linguistic features.
* It is also unlike conventional study Bibles in being a reader's guide to the Bible—a book that guides readers through the actual text of the Bible—rather than primarily a reference book about the Bible.
* It is a reader's Bible by virtue of dividing the Bible into units of a size that lends itself to daily reading or weekly group Bible study.
* The commentary and tips for reading appear at the head of passages instead of in footnotes.
* These lead-ins, moreover, move readers into the text that follows, instead of being a distraction from the text.
* The introductions to the books of the Bible provide a roadmap that points out what a reader most benefits from knowing about the book that follows.
* Literary commentary of the type provided in this book is particularly adept at showing the unity of Bible passages and the way in which they fit into the flow of a biblical book and the Bible as a whole.
* The commentary in this book is designed to draw readers into interaction with the biblical text instead of merely providing information about the Bible.
* A glossary at the back of the book provides definitions of literary terms and pointers about how to understand and interpret various literary genres.

As the foregoing list suggests, a literary Bible is distinctly different from other study Bibles. It is ideal as a first approach to the Bible because the content of the Bible can be mastered only if we pay attention to the forms in which that content is embodied. Further, the commentary that we provide is a guide into the Bible, not a reference source of information about the Bible. This literary commentary is thus a means to the end of equipping readers to renew their commitment to the Bible and to the living God who has revealed himself in the literary forms of the Bible.
To purchase, click here.
You decide!
Bill Cosby and Alvin Poussaint:
VS.
Michael Eric Dyson
Sidebar